Summer has arrived, which means hot weather and days spent in the air conditioning are now a thing. And that's not such great news for your complexion or hair. Both hot weather (especially with low humidity) and constant AC exposure take the moisture out of the air and our bodies, leaving your skin and strands parched AF, according to the American Skin Association.
With the right arsenal of skincare and haircare products, though, you'll be able to ward off even the most daunting drying effects. Whether you're looking for sunscreen, face wash, a moisturizer, a hydrating shampoo, or an entirely new summer #shelfie, we've got you. Ahead, you'll find 10 of our favorite products to fight off dry skin and hair—all under $20.

1
EVERYDAY SUNSCREEN
NEUTROGENA HYDRO BOOST GEL MOISTURIZING SUNSCREEN LOTION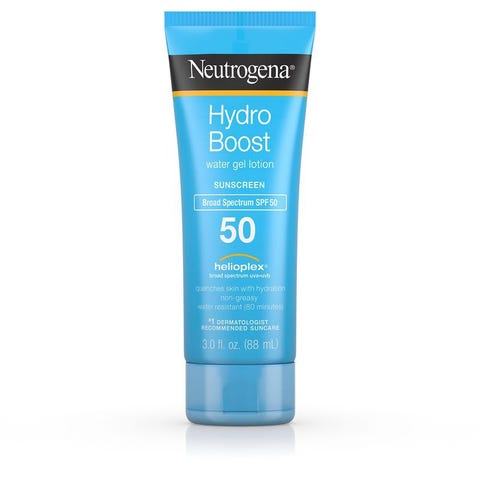 You've heard it a million times, but we'll say it again: You should be wearing sunblock every single day—especially on your face.
According to California-based dermatologist and beauty expert Anna Guanche, MD, this particular sunscreen is ideal for everyday use under makeup. It's made with dimethicone and hyaluronic acid (an ingredient that hydrates like crazy and plumps fine lines), which helps make this gel SPF feel more like a moisturizer or primer.

2
SHAMPOO FOR CURLY HAIR
COCONUT & HIBISCUS CURL & SHINE SHAMPOO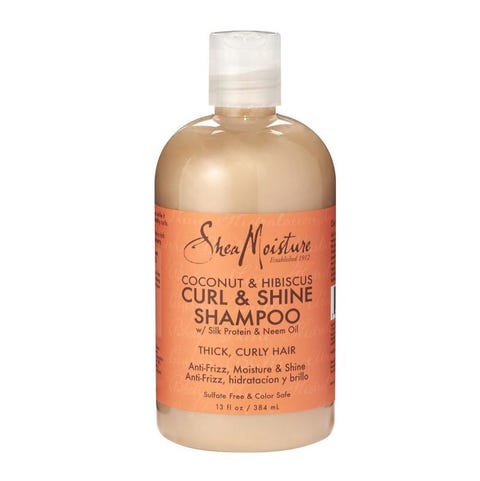 If your curls are feeling the effects of your sunny summer adventures, it's time to hop in the shower with a bottle of this hydrating shampoo. It's made with shea butter and coconut oil, which Dr. Guanche says will help hydrate and nourish the hair from the outside in. "Plus, the sulfate-free formulation helps to maintain color-treated hair color," she adds.

3
FULL-BODY LOTION
EUCERIN ADVANCED REPAIR BODY LOTION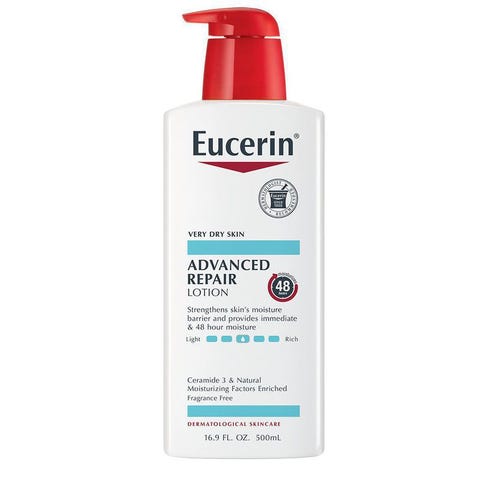 When your skin feels parched from days spent outdoors, your first move is probably to take a shower. But it's what you do after that shower that makes the most difference. That's because moisturizing your skin while it's still damp helps lock in hydration.
This lotion is formulated with hydrating shea butter, but Dr. Guanche says the real standout ingredient is lactic acid. "Lactic acid, which is an alpha hydroxy acid, helps to soften and remove dead skin, making it appear smoother and more hydrated," Dr. Guanche explains.
via Fight Dry Summer Skin And Hair With These Affordable Beauty Products