If you're stuck inside right now, you're probably running very low on your usual skincare essentials like, ahem, face masks. You definitely can not run to the store to pick up a couple of your favorite formulas (priorities!), but did you know that you've got plenty of ingredients at home to create face mask recipes on your own? Folks, it's time for some DIY.
Aside from actually being a lot of fun to make, DIY recipes have some added health benefits, too. "You know exactly what ingredients you're putting on your face," says Dhaval Bhanusali, MD, a dermatologist in New York City. "And you can cater the mask to the exact needs of your skin at that moment." Another bonus: DIY face mask recipes are cost effective. "You can utilize things around the house to keep costs low—many retail masks tend to be pricey," says Dr. Bhanusali.
And yes, while they're both entertaining and cheap, it's important to note a couple of things regarding skin safety before you start slathering concoctions onto your face. "What if I told you that some of these common household ingredients are doing more harm than good?" says Kerry Benjamin, esthetician and founder of StackedSkincare. She explains that it's important to avoid anything with citrus or baking soda, as they can cause irritation, burns, and potentially mess with the natural pH of your skin (which makes it a breeding ground for harmful bacteria).
But here's some good news: There are plenty of skin-loving, safe, and expert-approved ingredients as well. Keep reading for the best DIY face mask recipes that you can create at home.

1
Hydrating + Plumping: Aloe Rosemary Mask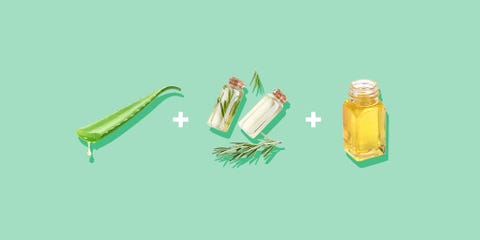 The Recipe:
4 Tbsp of fresh aloe vera blended
1 drop rosemary oil
1 drop castor oil
Combine ingredients in a blender and smooth onto your face. Leave for 10 minutes then rinse.
Why it works: Not only will the rosemary oil in this mask smell amazing, but it will hydrate your skin and make it feel super bouncy, too. Dr. Lamees Hamdan, MD, founder and CEO of Shiffa, says this is a great mask to run through your tresses post-shower, as it encourages healthy hair growth.

2
Hydrate + Repair: Argan Oil Mask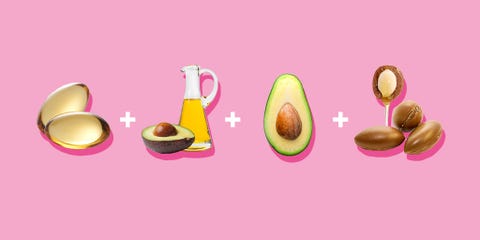 The Recipe:
1 tsp vitamin E
¼ cup avocado oil
½ avocado
1 drop Argan oil
Blend these ingredients until they have a thick paste consistency. Leave on until completely dried and then remove with a warm washcloth. Follow with your usual serums and moisturizers if needed.
Why it works: Benjamin says that the Vitamin E in this formula has anti-inflammatory benefits for your face. She also notes that the avocado and avocado oil will help restore the skin's natural barrier that aids in maintaining hydration.

3
Exfoliating: Pineapple Enzyme Face Mask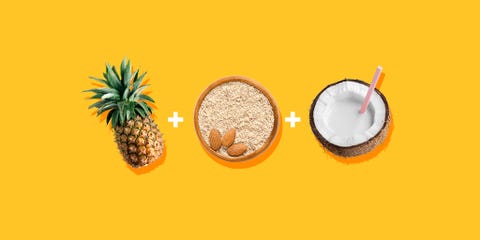 The Recipe:
¼ cup mashed pineapple
2 Tbsp almond meal
1 tsp coconut milk
Mix all of the ingredients together in a bowl. Leave on for 15 to 20 minutes and then rinse.
Why it works: Joanna Vargas, celebrity facialist and founder of Joanna Vargas Salon and Skincare Collection, explains that this mask "exfoliates, surfaces and stimulates your lymphatic system," which restores your skin's natural glow. If your skin is feeling super dull and flaky right now, definitely give this mask a go.

4
Anti-aging: Peaches + Cream Smoothie Mask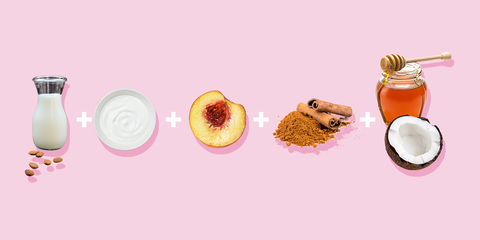 The Recipe:
1/2 cup almond milk
1/2 cup plain Greek yogurt
2 ripe peaches sliced, pit removed
1/4 tsp cinnamon
honey or coconut nectar (optional; add to taste)
Place all of the ingredients in a blender and blend at high speed for one minute, or until smooth. Enjoy as a smoothie, and save one tablespoon for a DIY mask.
Why it works: "Peaches have vitamin C, which boosts collagen and elasticity, and Greek yogurt exfoliates and brightens skin," says Angela Kim, founder of Savor Beauty. Plus, almond milk hydrates and softens skin while cinnamon increases circulation.
5
Hydration: Peanut Butter & Jelly Smoothie Mask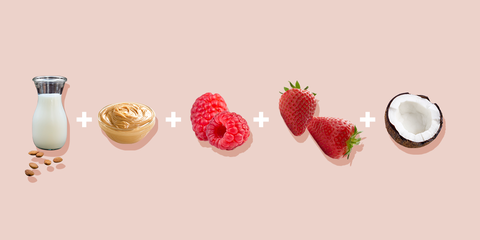 The Recipe:
1 cup unsweetened almond milk
1 Tbsp natural peanut butter
½ cup fresh raspberries
½ cup fresh strawberries
1 Tbsp raw coconut nectar
Place all of the ingredients in a blender and blend at high speed for one minute, or until smooth. Enjoy as a smoothie, and save one tablespoon for a DIY mask.
Why it works: "Berries nourish the skin with vitamin C and biotin," says Kim. That means they boost elasticity and help with anti-aging. Natural peanut butter is rich in omega 3s and has protein for cell regeneration and hydration.

6
Softening: Honey-Avocado Mask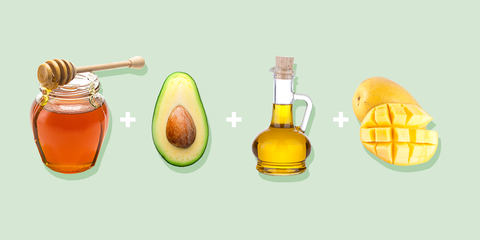 The Recipe:
2 Tbsp of honey
2 Tbsp of avocado
2 Tbsp of olive oil
1 mashed mango
Mix all the ingredients together. Leave on for 15 minutes and then remove with a warm cloth.
Why it works: "Honey hydrates without the risk of a breakout," says Vargas. "Avocado is loaded with omega-3 fatty acids and B vitamins, which are incredible for your lymphatic system and restoring the skin's lipid layer." Plus, the mashed mango helps brighten the skin since it's packed with vitamin C and the olive oil softens and reduces inflammation.
7
De-puff: Coffee Turmeric Mask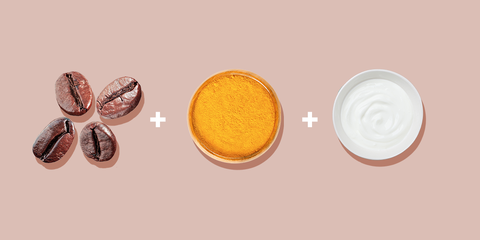 The Recipe:
1 Tbsp of instant or ground coffee
1 Tbsp of powdered turmeric
1 Tbsp of Greek yogurt
Mix together. Apply it all over your face, making sure to put it under the eye area as well. Leave the mask on for 20 minutes before removing it with a warm, damp towel.
Why it works: "The coffee in this mask is full of caffeine and antioxidants," says Athena Hewett, esthetician and founder of Monastery. "Caffeine reduces inflammation, including puffy eyes, and the antioxidants give a nice glow to the skin." As for as the other ingredients? Turmeric is full of brightening vitamin C and the yogurt is filled with lactic acid AHA that smoothes skin.

8
Moisturizing: Honey Rosehip Avocado Mask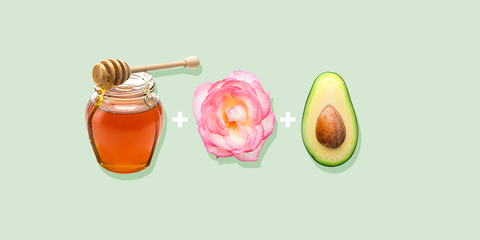 The Recipe:
1 Tbsp of honey
10 drops of rosehip seed oil
1/4 of a ripe avocado
Combine all the ingredients together in a food processor (this helps smooth out the avocado). Rinse the mask off after five minutes.
Why it works: "Rosehip seed oil improves skin texture and strengthens cellular walls, and the avocado is moisturizing and calming to the skin," says Hewett. With the extra boost of moisturizing honey, you have a thirst-quenching mask perfect for dry skin.

9
Smoothing: Papaya Greek Yogurt Mask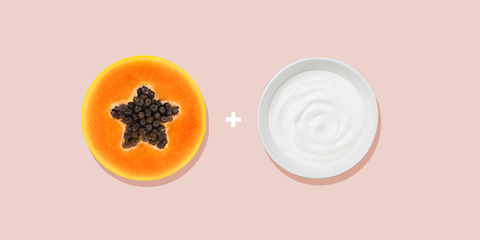 The Recipe:
2 Tbsp of ripe, mashed papaya
1 Tbsp of full-fat plain yogurt
Mix the papaya and yogurt together and then apply it to a clean face, neck, and décolleté in gentle, upward-sweeping motions. Leave the mask on for three to 10 minutes, depending on your skin's sensitivity. Wash off with tepid water and follow with toner and facial moisturizer.
Why it works: "Papaya is high in vitamin C and a protein-dissolving enzyme called papain, so this mask is perfect for smooth, clear skin," explains Rachel Winard, founder of Soapwalla. "Try halving the amount of papaya if you have sensitive skin or redness."

10
Acne-Fighting: Triple-Action Turmeric Mask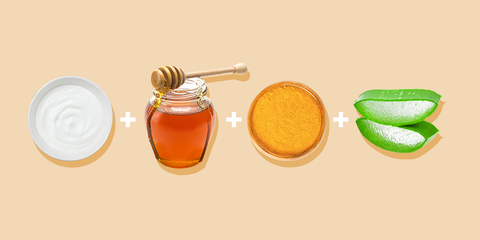 The Recipe:
1 Tbsp of organic Greek yogurt
1 tsp of honey
1/2 tsp turmeric
1 tsp aloe
Combine all the ingredients together and leave on for 10 minutes.
Why it works: "I call this a triple-action mask because it is anti-bacterial, anti-inflammatory, and super-hydrating," explains Vargas. "Honey and aloe are natural antiseptics, great for keeping your skin clear. Turmeric is anti-inflammatory, and organic Greek yogurt will boost your skin's hydration."
11
Calming: Potato Turmeric Mask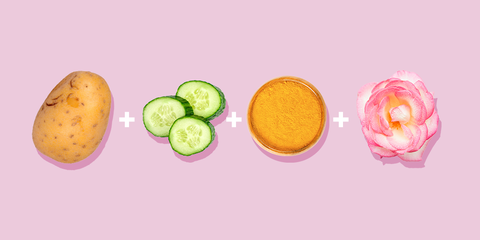 The Recipe:
One grated white potato
One grated cucumber
A few drops of rose water
1/4 tsp of turmeric
Blend ingredients together and rinse after 10 minutes. Use a cloth to help make sure you get all the grated veggies off your face.
Why it works: Like turmeric, Dr. Hamdan says that potatoes are anti-inflammatory. "Potatoes have been applied to bruises and wounds for centuries," she says. Meanwhile, "cucumbers have a great toning effect, are hydrating to the skin, and are rich in vitamin C."