With any skin condition, keeping your skin flare-up free tends to be a bit challenging—especially if you have a condition like psoriasis. Trying new products like a lotion can make your current outbreak more inflamed or, when you seem to catch a break, it can make them reappear. And the last thing that you want is to make your psoriasis more uncomfortable.
According to the National Psoriasis Foundation, psoriasis affects more than eight million people in the United States. "Psoriasis is an inflammatory condition that affects the body and manifests on the skin and joints," says Atlanta-based dermatologist Tiffany Clay, MD. It causes thick plaques on the scalp, elbows, knees, and buttocks—and sometimes the body, including the genitalia. And, "about one-third of those with psoriasis may also have psoriatic arthritis which causes pain, swelling, and destruction of the fingers, toes, and joints," Dr. Clay explains.
Dr. Clay notes that there is no full understanding of what causes psoriasis, however, "we do know that the immune system increases skin cells' growth, and they do not shed as they usually do," she says. This lack of natural shedding is what causes thick plaques on the skin. Genetics also play a role in psoriasis, and other members of your family may have the condition.
Flare-ups are another common characteristic of psoriasis. Multiple factors contribute to these flare-ups, including: "streptococcal infections, injuries like abrasions, sunburns, obesity, and significant stress, to name a few," says Dendy Engelman, MD, a board-certified dermatologist practicing at the Shafer Clinic in New York.
"Unfortunately, there isn't a psoriasis treatment," says Dr. Engelman. Management and regular visits to your doctor are critical. Aside from your prescribed medication, you can also add a lotion to help with your psoriasis discomfort. Looking for ingredients such as ceramides, hyaluronic acid, peptides, and niacinamide are the key to a great lotion, according to Dr. Engelman. "These will nourish the skin and soften any lesions without causing any irritation," she explains. Dr. Clay also says to look for acids like lactic acid and salicylic acid that will help to gentle exfoliate away the build up of skin cells.
Ahead, see the best lotions that help calm psoriasis flare-ups.

1 Cetaphil Sheer Hydration Replenishing Body Lotion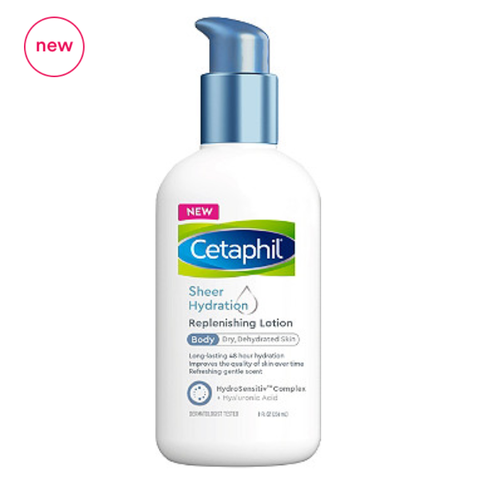 ulta.com $13.99 SHOP NOW
"I like Cetaphil's newest innovation, HydroSensitiv Complex—it helps soothe skin sensitivity and delivers long-lasting hydration." -says Dr. Engelman. The lotion absorbs quickly but is also packed with major hydrators like hyaluronic acid, sunflower oil, vitamin B5 and antioxidant vitamin E.

2 CeraVe Psoriasis Moisturizing Cream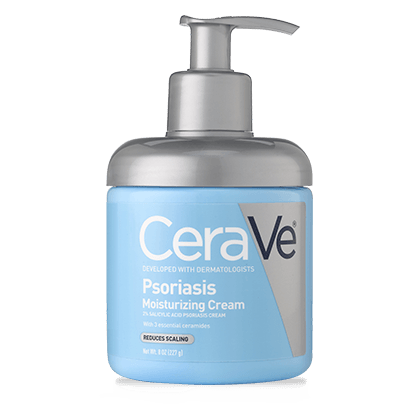 cerave.com $4.70 SHOP NOW
This lotion is the perfect blend of exfoliators (salicylic acid and lactic acids) as well as moisturizers like ceramides and niacinamide to help slough away the dead skin build-up while nourishing the new skin underneath.

3 Eucerin Roughness Relief Lotion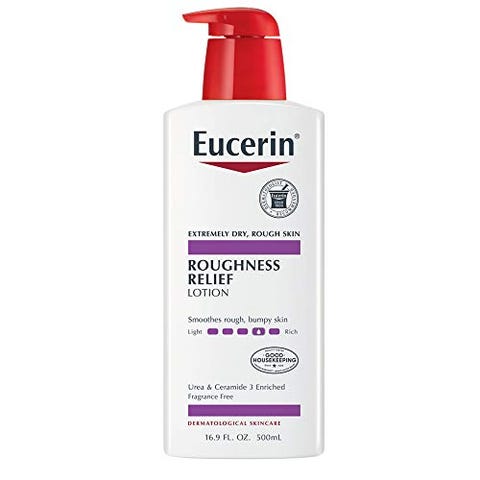 amazon.com $12.49 $9.97 (20% off) SHOP NOW
Dr. Clay says that this lotion is excellent for exfoliating. Even though the texture is cream-based, it doesn't leave the skin feeling greasy or sticky.

4 Gold Bond Ultimate Psoriasis Relief Cream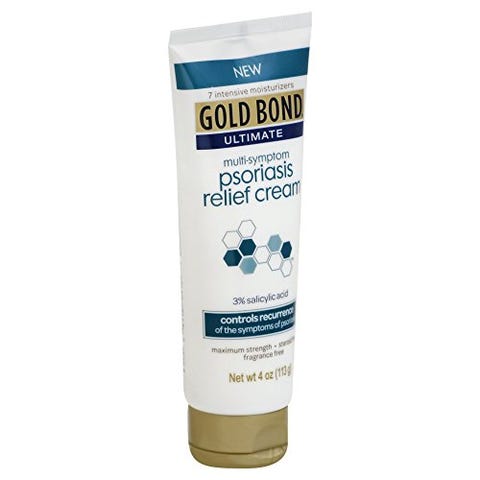 amazon.com $9.48 SHOP NOW
This lotion contains three percent salicylic acid and ceramides, "which relieves symptomatic Psoriasis type skin." says Dr.Clay.

5 Curél Hydra Therapy Itch Defense Moisturizer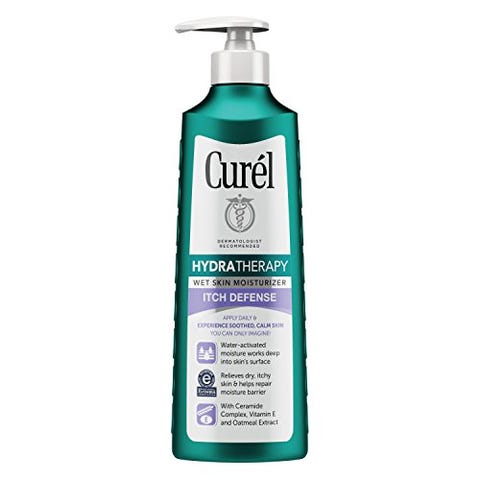 amazon.com $10.49 SHOP NOW
Activated by water, this moisturizer is easy to apply right out of the shower. You'll find oatmeal extract, vitamin E, and ceramides that all work to subdue itching and irritated skin.

6 Lord Jones High CBD Formula Chill Balm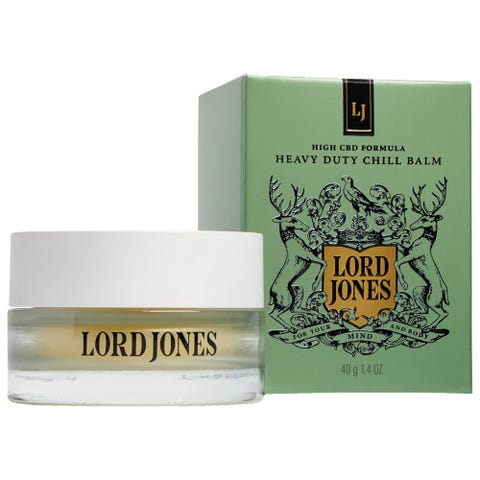 sephora.com $75.00 SHOP NOW
"Since we know that inflammation is the root cause of psoriasis, treating it with CBD will help to calm that inflammation," Dr. Engelman explains. The balm also has shea butter and jojoba oil to support compromised skin.

7 Dove DermaSeries Dry Skin Relief Expert Balm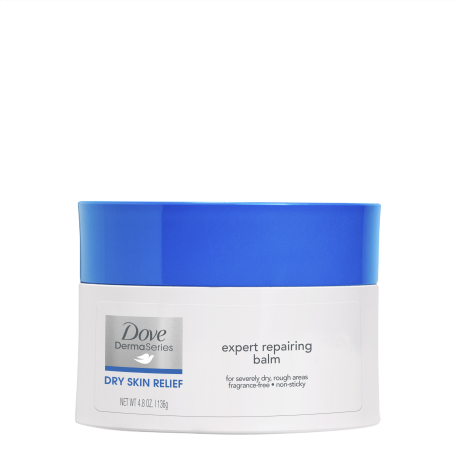 dove.com $106.00 SHOP NOW
"Balms are very hydrating creams that are excellent at moisturizing and healing dry, cracked skin," says Dr. Clay. She loves this one in particular because it's fragrance-free and petrolatum-based so it locks in moisturize without irritating sensitive skin.

8 ISDIN Body Lotion Uradin10 24H Intense Hydration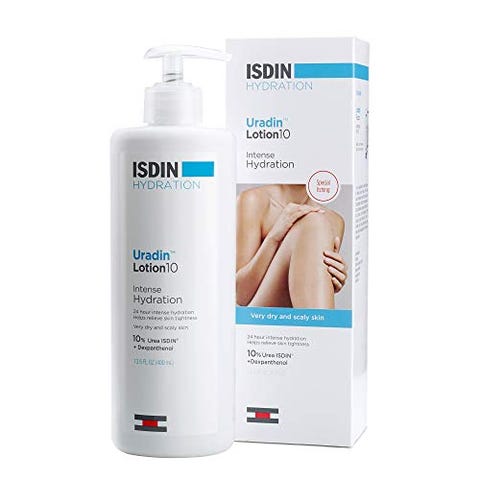 amazon.com $33.00 SHOP NOW
The Intense Hydration lotion by Isdin is excellent for skin that is dehydrated and flaking. It's full of emollients that assist the skin in staying moisturized will last up to 24-hours. The dexpanthenol (a medication used in moisturizers) treats dry and itching skin.

9 La Roche-Posay Cicaplast Baume B5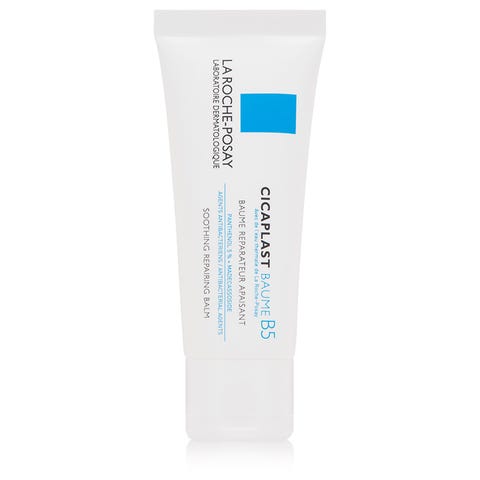 dermstore.com $14.99 SHOP NOW
Although this multi-tasking balm isn't specific for psoriasis, it contains shea butter and glycerin to provide the skin with nutrients and hydration. The texture also absorbs into the skin without leaving a greasy residue.
10 Psoriasin Deep Moisturizing Ointment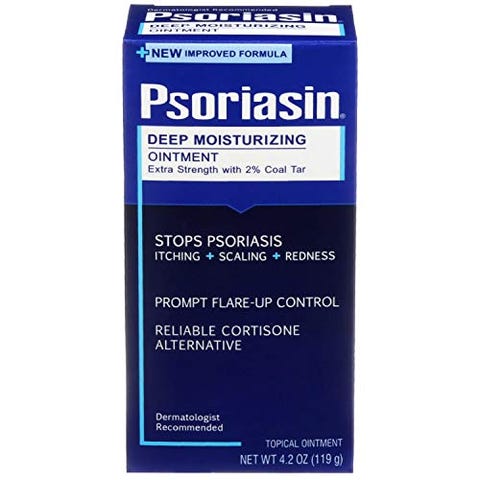 amazon.com $9.99 SHOP NOW
Dermatologist-recommended and specifically formulated for those with psoriasis, this ointment is safe to use with medications like steroids prescribed by your doctor. The magic ingredient in this formula? Coal tar, which is best for helping slow the excessive production of skin cells.

11 Neutrogena T/Gel® Therapeutic Shampoo-Original Formula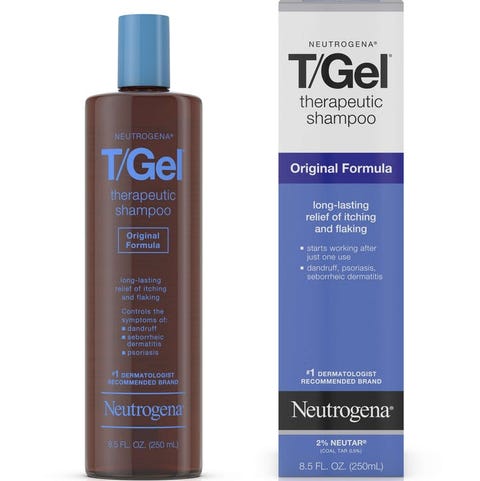 neutrogena.com $9.99 SHOP NOW
"Neutrogena T-Gel is a coal tar containing shampoo that is great for scalp psoriasis," says Dr.Engelman. And while it's specifically made to treat the scalp, she says it's also safe to use on your body as well.

12 Era Organics Eczema, Psoriasis & Dermatitis Cream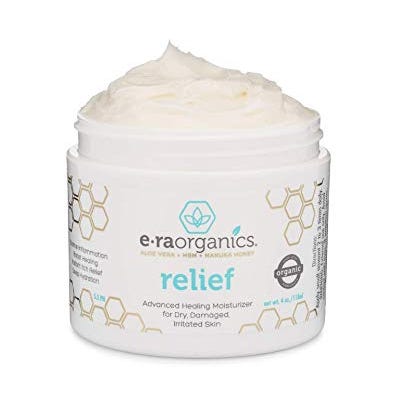 amazon.com $23.87 SHOP NOW
Instead of heavy chemicals, this cream is crafted with natural ingredients like shea butter, aloe vera, and manuka honey that soothe psoriasis.
Source: Women's Health