While deodorant is definitely not the most glamorous product in your beauty arsenal, imagine a world without it. Think of what your sweatiest spin class would be like… or the beach… or a tense office presentation… Scary, right? The best deodorants for women will alleviate any and all sweat anxiety you may have.
When you're shopping for deodorant, keep in mind there's a difference between deodorant and antiperspirant. Antiperspirants work by plugging your pores with an aluminum-based compound, says New York City dermatologist Joshua Zeichner, M.D. That means they nix sweating. Whereas deodorants do not. Both fight odor.
A quality deodorant or antiperspirant not only stops body odor, but it also keeps you (and your armpits) fresh no matter the sitch. Behold, the best deodorants for women:

1
BEST CLINICAL STRENGTH
SECRET CLINICAL STRENGTH FAST ACTING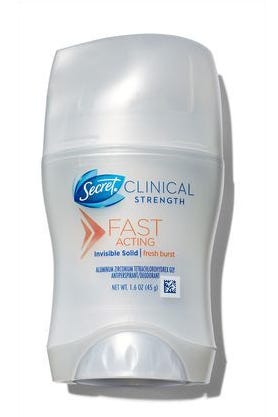 2
BEST DEODORANT WIPE
DEGREE WOMEN STAY FRESH DEODORANT WIPES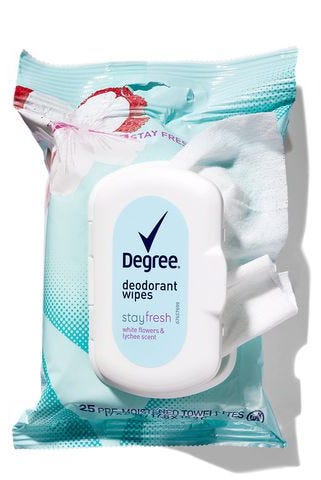 The 
2019 Women's Health Beauty Award winner
 for Best Deodorant Wipe is here to make your life a heck of a lot easier (and better-smelling!). Stash this pack in your gym bag for those times you don't have a chance to shower, or leave them at your desk for a mid-day refresh.
3
BEST SERUM ANTIPERSPIRANT
DOVE DRY SERUM ANTIPERSPIRANT DEODORANT ROSE SILK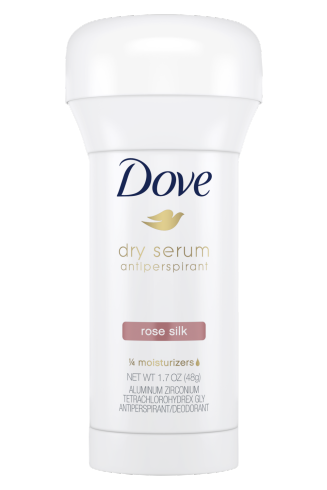 When it's hot out, or you just finished up a workout, applying a thick antiperspirant can feel, well, a little gross. Enter this new Dove serum formula. It feels like a fancy skincare product going on and dries down quickly. And the rose scent? Ah-mazing.

4
BEST CHARCOAL DEODORANT
FOLLAIN CHARCOAL DEODORANT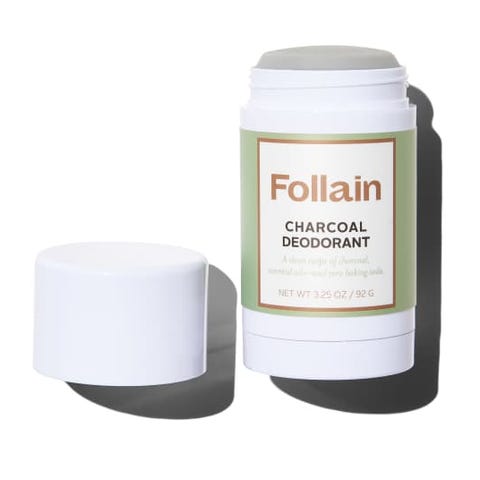 Free of aluminum, this natural formula uses charcoal to absorb impurities, tea tree to fight odor-causing bacteria, and corn starch to absorb oil.

5
BEST BAKING SODA-FREE DEODORANT
MEOW MEOW TWEET GRAPEFRUIT CITRUS BAKING SODA FREE DEODORANT STICK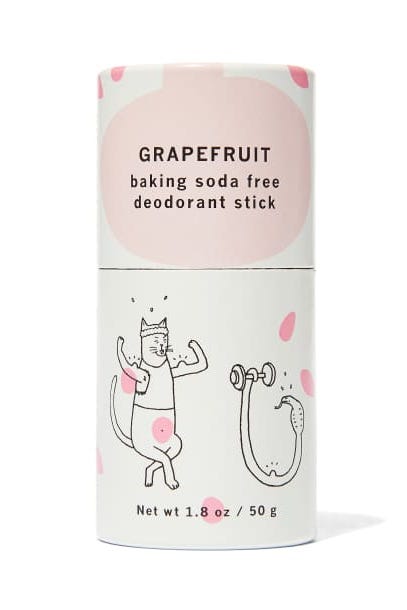 If you're looking to 
switch to natural deodorant
, you may find that your skin is suddenly irritated. A likely culprit: baking soda. This gentle formula foregoes the common ingredient and uses arrow root powder to absorb sweat and coconut oil to keep pits smooth.
6
BEST FOR EXTREME SWEATERS
DR. SWEAT CLINICAL STRENGTH ANTIPERSPIRANT DEODORANT PADS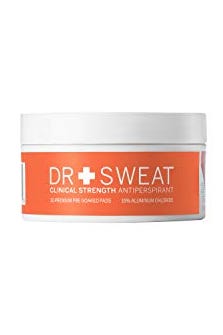 If you sweat a lot, or suffer from hyperhidrosis, these pads may be your best bet. They're clinically proven to reduce sweat for seven days—yes, a whole week! Simply swipe the alcohol-free pad onto clean pits and let them dry to allow the 15% aluminum chloride antiperspirant to do its magic.

7
BEST FRAGRANCE-FREE DEODORANT
SCHMIDT'S SENSITIVE SKIN FORMULA DEODORANT STICK, FRAGRANCE-FREE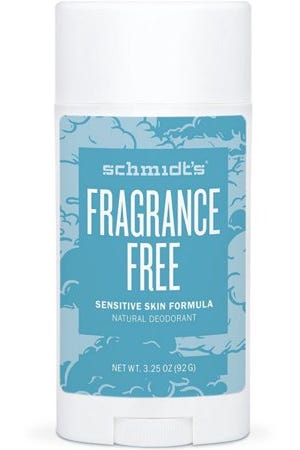 Got sensitive pits? You may want to try a fragrance-free deodorant like Schmidt's. It's also free of  baking soda, aluminum, propylene glycol, parabens, and phthalates. But it's packed with soothing and hydrating coconut oil and shea butter.

8
BEST LONG-LASTING NATURAL DEODORANT
TOM'S OF MAINE NATURAL STRENGTH DEODORANT, FRESH POWDER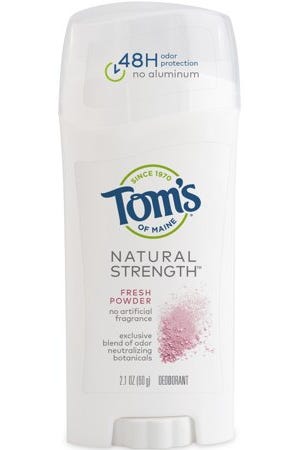 48 hours of odor protection from a natural deodorant? It's now possible thanks to this stick formulated with no artificial fragrances but packed with goodies like zinc oxide to freshen and beeswax to condition skin.
9
BEST SWEAT-ACTIVATED DEODORANT
TYPE:A THE VISIONARY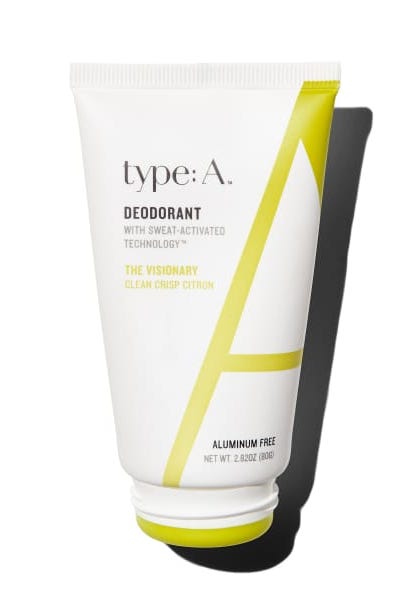 This new natural deodorant is made with a sweat-activated formula with a time release effect. That means it will kick in when you really need it.

10
BEST FOR SUPER HOT DAYS
DEGREE WOMEN SUMMER STRENGTH CLINICAL PROTECTION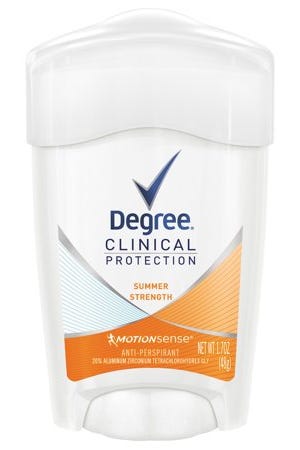 For those summer scorchers, reach for this clinical strength formula to ensure you stay dry. It's made with Degree's proprietary MotionSense technology that responds to your body movement, releasing extra freshness when you move.

11
BEST ROLL-ON ANTIPERSPIRANT
BAN POWDER FRESH ROLL-ON DEODORANT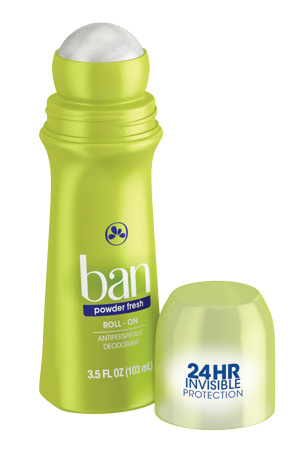 Love the ease of a roll-on formula? Then you'll love this clear, 24-hour protection antiperspirant from Ban.
12
BEST TRAVEL ANTIPERSPIRANT
SECRET FRESHIES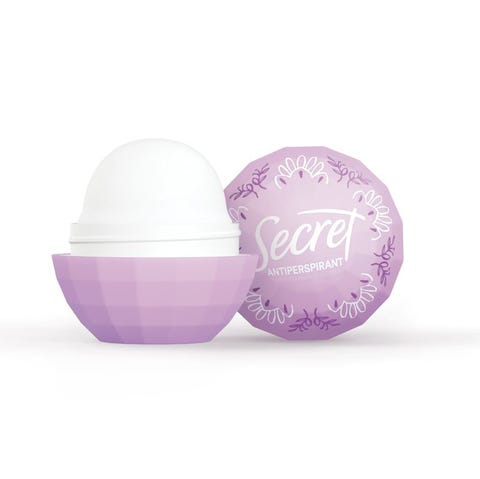 Aside from being totally adorbs, this little antiperspirant sphere packs a serious anti-sweat punch. Plus, it's portable size makes on-the-go touch-ups a total breeze.

13
BEST ANTIPERSPIRANT SPRAY
DOVE ANTIPERSPIRANT DRY SPRAY INVISIBLE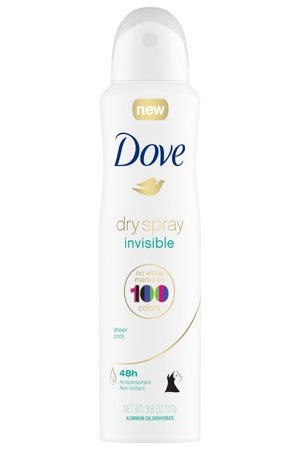 If you want a weightless feel, switch to a dry spray antiperspirant. "They create a flexible film of active ingredients on your skin and remain dry," says Perry Romanowski, a cosmetic chemist in Chicago. Dove's has finely milled aluminum for invisible protection, plus a special masking oil to prevent any marks from getting on clothes.

14
BEST FOR SENSITIVE SKIN
URSA MAJOR BASE LAYER DEODORANT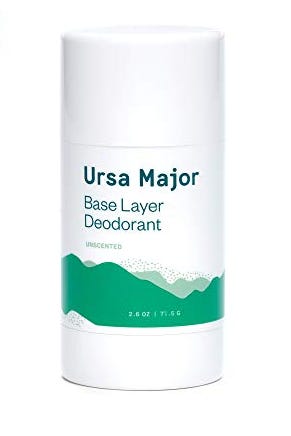 Ursa Major
amazon.com
$18.00
Sensitive-skinned gals should avoid irritants like aluminum, baking soda, and fragrance—all three can cause redness, burning, and peeling of the skin, says Dr. Zeichner. This gentle stick uses chamomile to soothe skin, hops to ward off the bacteria that makes sweat smelly, and kaolin clay to absorb moisture.
15
BEST DERMATOLOGIST PICK
NATIVE DEODORANT COCONUT & VANILLA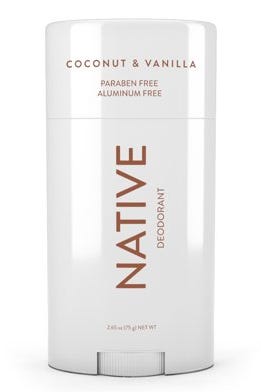 "This is my favorite aluminum-free deodorant on the market," says Dendy Engelman, M.D., New York City-based dermatologist. "It is free of toxins, like paraben and sulfates, yet works effectively and keeps you smelling great all day long."

16
BEST SMELLING DEODORANT
MEGABABE ROSY PITS DAILY DEODORANT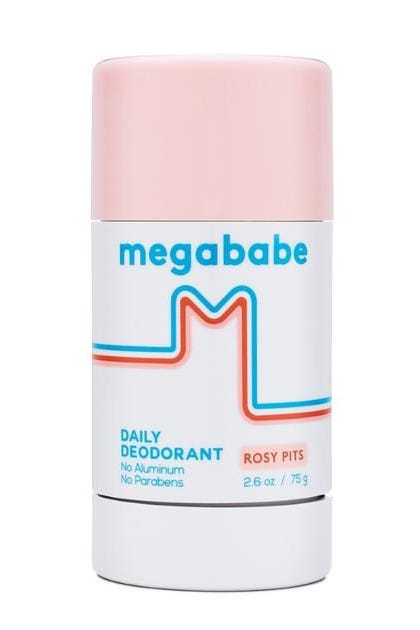 People are obsessed with this aluminum and paraben-free stick. It even had a waiting list when it first launched that's what a cult product it is. It's made with a blend of natural ingredients, including sage and green tea, to prevent odor-causing bacteria from forming on the skin and smells like a fine rose fragrance.

17
BEST UNDERARM SCRUB
PACIFICA COCONUT & CHARCOAL UNDERARM DETOX SCRUB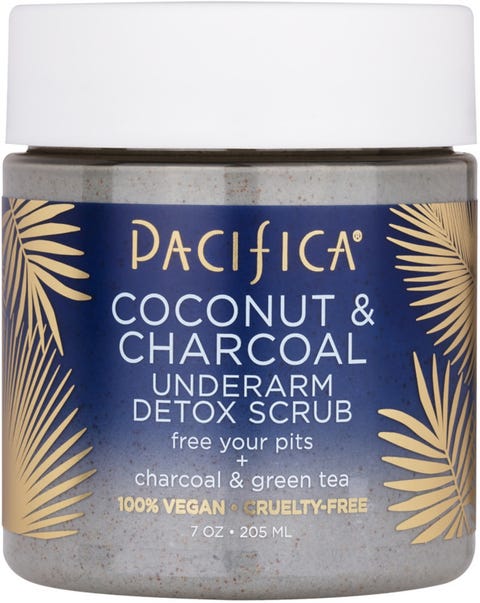 We scrub our faces and our bodies, so why wouldn't we scrub our pits, one of the sweatiest, greasiest spots on our bodies? Use this detoxifying underarm scrub to help remove deodorant and bacteria buildup.
via 17 Best Deodorants for Women 2019 – Best Antiperspirant For B.O.