Tangled topknots. Neck sweat. Fried ends. Summer can wreak havoc on your hair, but it doesn't have to. stress-free, healthy strands are possible with these pointers.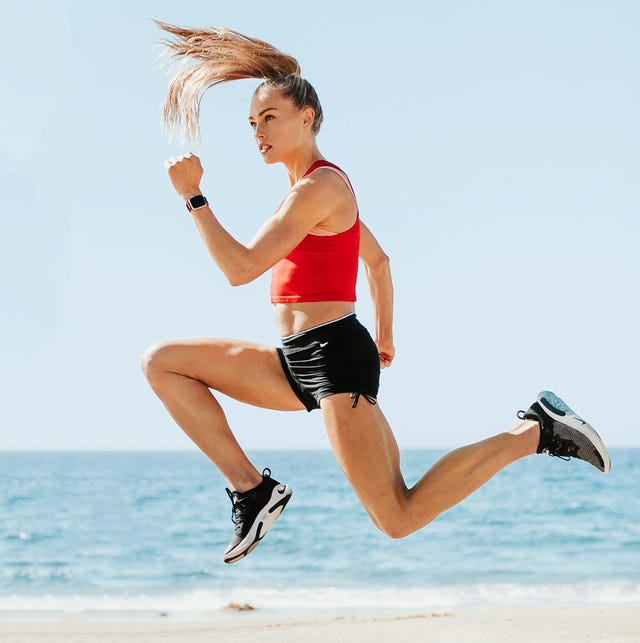 If there's anyone who knows about no-fuss, no-budge hairstyles, it's professional athletes. They may not be competing right now, but they're still training and sweating and…sharing all their institutional strand knowledge. "Summer hair needs to be functional," says Colleen Quigley (pictured above), Olympic track star and genius DIY hair guru via her Instagram tutorials #FastBraidFriday. "No one likes hair sticking to them or making them steamier than they already are." Truth. (And you don't have to own the 3,000-meter steeplechase to appreciate that.)
Quigley often puts her long, straight hair in different braids, like a crown braid that leads into a ponytail or two Dutch braids tied together. After years of competition, she's learned which products work, like the "absolute best" ties from TIY (Tie It Yourself): a roll of elastic you can cut and customize to suit your hair length and texture. "They're supersoft, so they won't damage it while keeping a tight hold." Sold! More athlete-approved hair hacks to try this season…
TIY
tiyproducts.com
$12.50
Meet the stretchiest, sturdiest elastic you'll ever get. "For a ponytail with my hair (pretty thick, straight), I wrap it around four times and tie it on itself," Quigley says. Also–if you're a newbie at doing your own hair, no worries. "It has taken me years to get to the point now with my hair where I feel like I can get it to do almost anything I want," she adds.
Kelley O'Hara: Embrace Third-Day Hair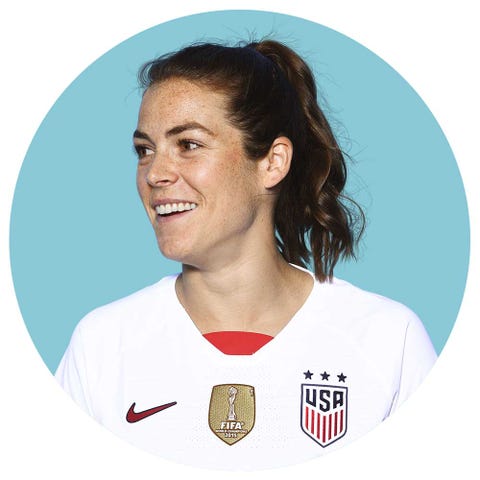 Skipping more wash days lately? Good. This is the key to a sporty updo, according to soccer pro Kelley O'Hara. "I like my hair a little dirty because it stays better in a ponytail and flyaways and baby hairs are kept down and back, out of my eyes," she says. Two days before a game, she shampoos and conditions; then, after practice the night before, she'll skip shampoo and only condition with Tame The Beast Caffeine Conditioner ($19, getbeast.com). This method leaves some sweat on strands for added texture.
Nneka Ogwumike: Say Yes to Headbands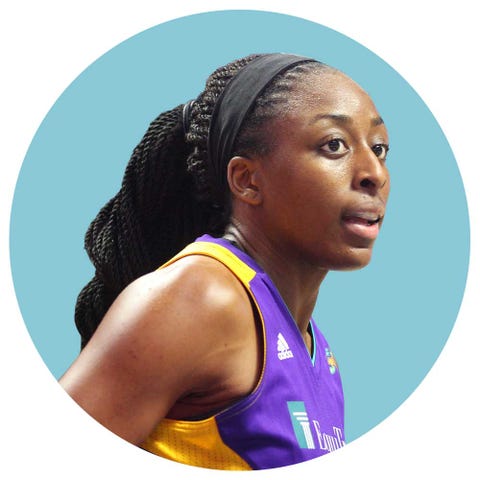 It's high time you embraced hair accessories. They're cute, yes, but they can also be practical. Take it from basketball player Nneka Ogwumike, who always finishes her game-day high ponytail or bun with one. "I love wearing headbands to catch sweat and protect my edges," she says, adding that the style is key. "I prefer them with a wide width—ones that either come as a circle or can be tied." Try the Adidas solid tie headband.
Sydney McLaughlin: Brush in the Shower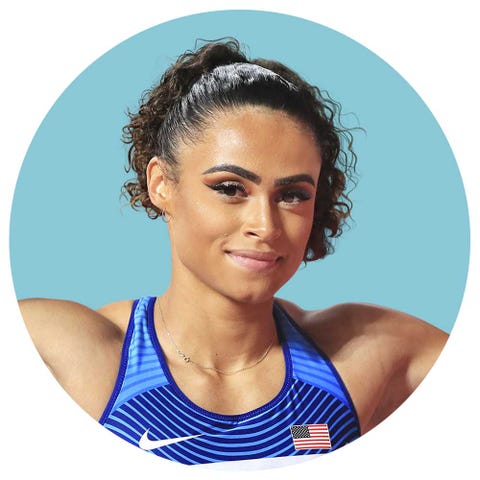 Constantly throwing your hair up in buns or other low-maintenance styles can easily lead to knots. Smooth everything out by multitasking in the shower with the Wet Brush Shower Flex Brush . "I brush my hair under the water with conditioner so it's easier to detangle," says sprinter and hurdler Sydney McLaughlin. She does this after shampooing and applying Cantu Shea Butter Conditioner all over. Then she rinses and finishes with a microfiber towel wrap.
Crystal Dunn: Go For Protective Styles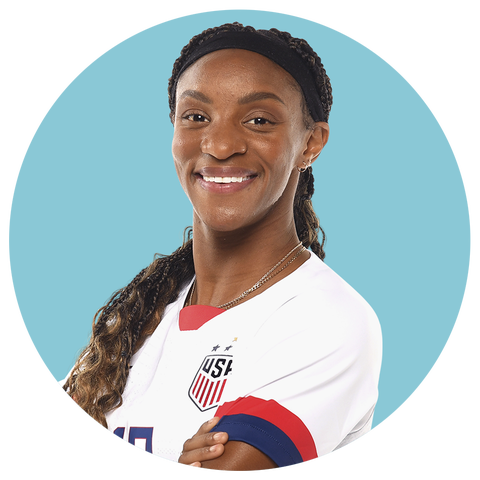 You don't want to fuss with a new 'do every day, so figure out one you can keep in. Soccer player Crystal Dunn wears cornrows in the summer because they require less upkeep. "They protect my hair from the sun and sweat damage," she says, adding that she favors microbraids for the same reason. "I wear my hair in a variety of braided styles because it still allows me to be creative and experiment." To condition, she spritzes on a coat of The Mane Choice's Daily Restoration Spray ($13.50, sally​beauty.com).
Gwen Jorgensen: Rehab With Pantry Staples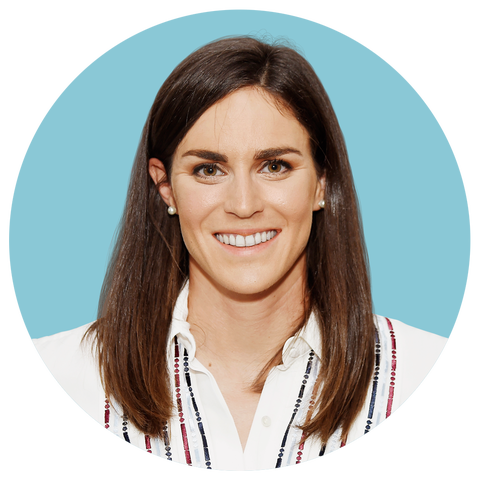 As a triathlete, Gwen Jorgensen is very familiar with fighting the elements. In the summer, that means a lot of UV rays beaming down and drying out her strands, in addition to their being parched from constant showering post-workout. "For conditioner, once a week, I'll just use a simple coconut oil to rehydrate and smooth," she says. "I apply that before bed, sleep with it in, then rinse out in the shower after my morning run."
Sandi Morris: Apply Texturizing Spray First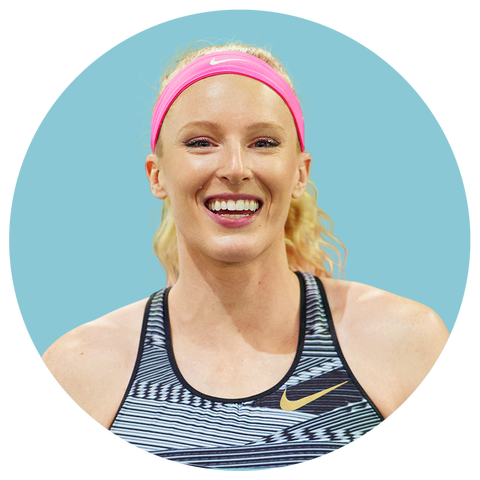 For a look that can withstand leaping over 15 feet in the air (or, you know, just a steamy outdoor jog), use Drybar Triple Sec 3-in-1 Finishing Spray before putting in your pony, like pole vaulter Sandi Morris does. Another trick if you really need a don't-move 'do? Use a teasing comb along the roots, right where the holder will go. ("My hair is very soft, and this makes it stay much better," she says.) She also swears by using two ponytail elastics at the same time instead of one, for extra security.
Haley Anderson: Mask Your Hair Post-Swim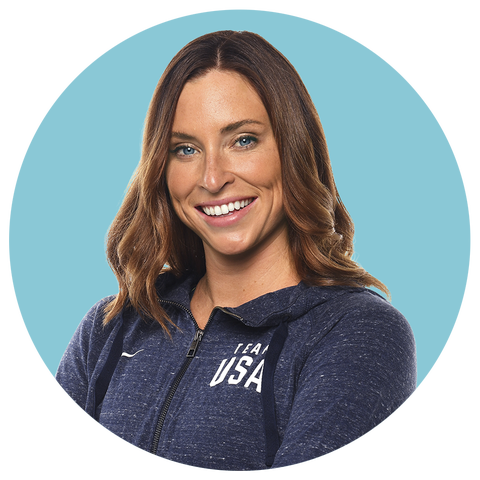 Dye jobs are particularly vulnerable in summer months thanks to the sun and water. Yep, your backyard pool can be a major culprit, dulling hair: "Every time I've had highlights done, the chlorine and rays have made it feel even more parched than usual," says swimmer Haley Anderson. "I use the mask Olaplex Hair Perfector No. 3. It works so well to bring life back to my hair." Adding to cart, now.