If cereal and milk is your fave breakfast of all time, but you're on a low-carb diet, the prospects may seem…bleak. But there are options!
Just be sure to not only fixate on the carb content. For a truly healthy low-carb cereal, stick to one that's higher in protein and fiber, and low in added sugar, recommends Kelly Jones, RD. "This will help control the blood glucose response and boost satiety."
These are the best nutrient-packed, low-carb cereals to try, according to nutritionists.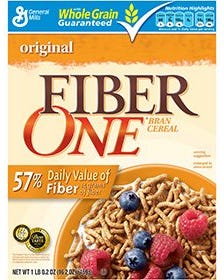 Fiber One
amazon.com
$44.00
"I love Fiber One Original cereal because it contains over 50 percent of the suggested daily fiber for women in a half-cup serving without added sugars," says Lauren Harris-Pincus, RDN and author of 
The Protein-Packed Breakfast Club
. "It adds a great crunch to yogurt or cottage cheese too for only 11g net carbs."
Per ½ cup serving: 60 cal, 1g fat, (0g sat fat), 25g carbs, 0g sugar, 110mg sodium, 14g fiber, 2g protein.
via 10 Best Low-Carb Cereals – Low-Carb Meusli, Granola, And More