Keeping up with the all the fun face masks out there is harder than keeping up with the Kardashians. How do you try them all (and get all their glow-inducing benefits) without going totally broke?
Enter DIY face masks. Tweak what you use to suit your skin's needs that day (dry, oily, flaky) without buying a ton of different products. Your credit card will thank you! To show you how it's done, four natural skin experts share their favorite at-home recipes below.
1
For Dry Skin: Honey-Avocado Mask
The Recipe:
2 tablespoons of honey
2 tablespoons of avocado
2 tablespoon of olive oil
1 mashed mango
Mix all the ingredients together. Leave on for 15 minutes and then remove with a warm cloth.
Why It Works: "Honey is great because it is hydrating without risking a breakout," says Joanna Vargas, celebrity facialist and founder of Joanna Vargas Salon and Skincare Collection. "Avocado is loaded with omega-3 fatty acids and B vitamins, which are incredible for your lymphatic system and restoring the skin's lipid layer." The mashed mango helps brighten the skin, since it's packed with vitamin C, while the olive oil softens. Olive oil is also an anti-inflammatory that reverses the signs of sun damage.
2
For Combination Skin: Triple-Action Turmeric Mask
The Recipe:
1 tablespoon of organic Greek yogurt
1 teaspoon of honey
1/2 teaspoon turmeric
1 teaspoon aloe
Combine all the ingredients together and apply for 10 minutes.
Why It Works: "I call this a triple-action mask because it is anti-bacterial, anti-inflammatory, and super hydrating," explains Vargas. "Honey and aloe are natural antiseptics, great for keeping your skin clear. Turmeric is the anti-inflammatory, and organic Greek yogurt will boost your skin's hydration."
3
For Oily Skin: Matcha Mask
The Recipe:
1/4 cup cooked, plain oatmeal
1/4 teaspoon matcha powder
1/2 teaspoon of honey
Stir the ingredients together and then squeeze in fresh lemon juice, mixing until you get the right consistency for a mask. Apply the mixture to clean skin for 10 minutes. Once the time is up, wet your hands and begin massaging skin to create a light exfoliation before rinsing. Remember: If you have active acne, be extra gentle when exfoliating.
Why It Works: "Matcha is a superfood and has powerful antioxidants," says Lamees Hamdan, M.D., founder and CEO of Shiffa. She likes applying this mask in the morning for an antioxidant boost during the day. This mask may also help reduce your skin's sebum production.
4
For congested skin: Potato turmeric mask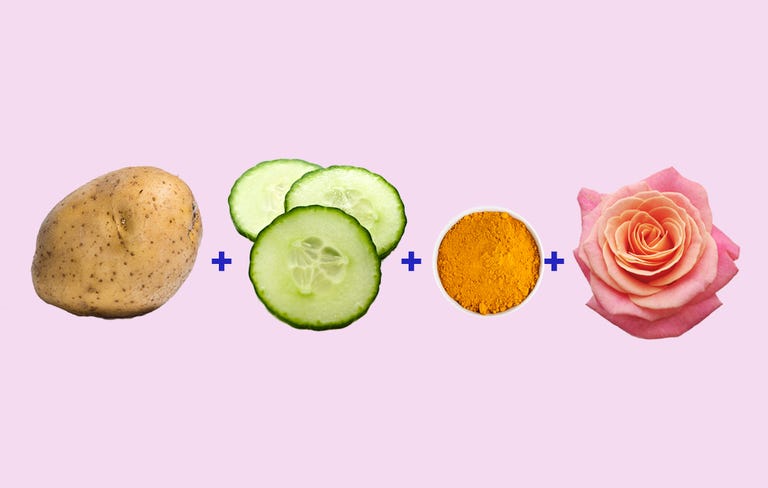 The Recipe:
One grated white potato
One grated cucumber
A few drops of rose water
1/4 teaspoon of turmeric
Blend ingredients together and rinse after 10 minutes. Use a cloth to help make sure you get all the grated veggies off your face.
Why It Works: Like turmeric, Hamdan says that potatoes are anti-inflammatory. "Potatoes have been applied to bruises and wounds for centuries," she says. Meanwhile, "cucumbers have a great toning effect, are hydrating to the skin, and are rich in Vitamin C."
5
For dull skin: Coffee turmeric mask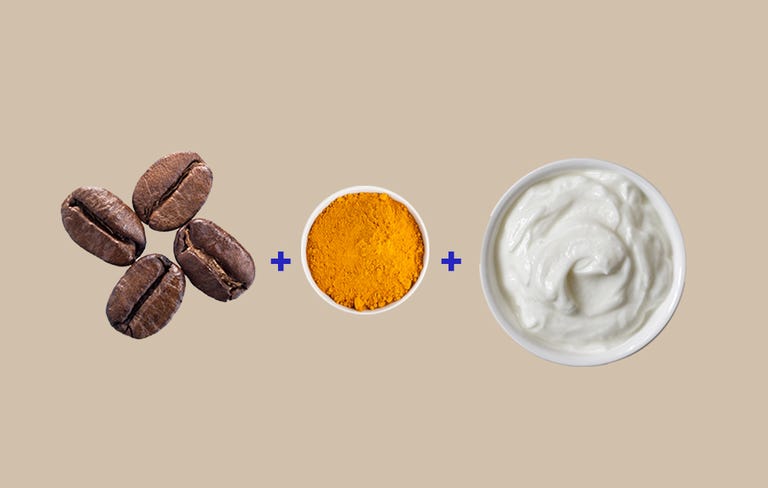 The Recipe:
1 tablespoon of instant or ground coffee
1 tablespoon of powdered turmeric
1 tablespoon of Greek yogurt
Mix together. Apply it all over your face, making sure to put it under the eye area as well. Leave the mask on for 20 minutes before removing it with a warm, damp towel.
Why It Works: "The coffee in this mask is full of caffeine and antioxidants. Caffeine reduces inflammation, which includes puffy eyes, while the antioxidants will give a nice glow to the skin," says Athena Hewett, esthetician and founder of Monastery. As for as the other ingredients? Turmeric is full of brightening vitamin C and the yogurt is filled with lactic acid AHA that smooths the skin.
6
For dry skin: Honey rosehip avocado mask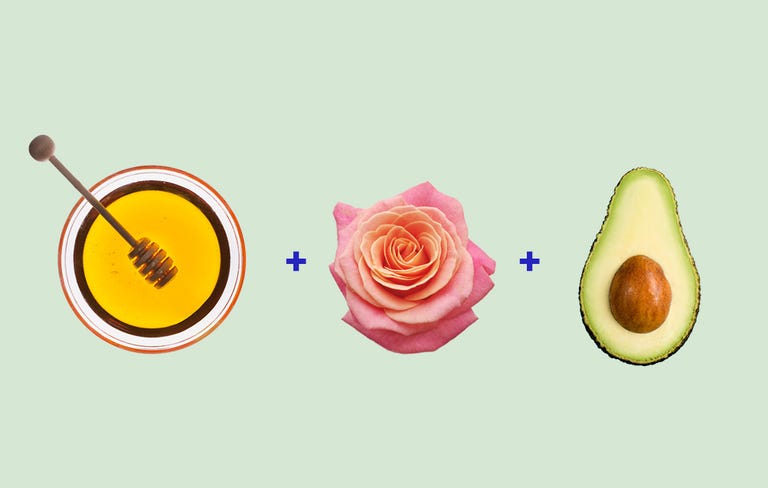 The Recipe:
1 tablespoon of honey
10 drops of rosehip seed oil
1/4 of a ripe avocado
Combine all the ingredients together in a food processor (this helps smooth out the avocado). Rinse the mask off after five minutes.
Why It Works: "Rosehip seed oil improves skin texture and strengthens cellular walls, and the avocado is moisturizing and calming to the skin," says Hewett. With the extra boost of moisturizing honey, you have a thirst-quenching mask perfect for dry skin.
7
For dull skin: Papaya Greek yogurt mask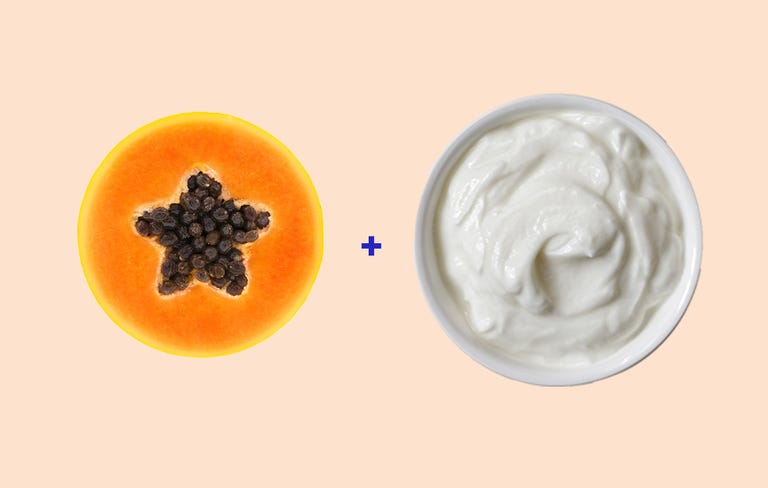 The recipe:
2 tablespoons of ripe, mashed papaya
1 tablespoon of full-fat plain yogurt
Mix the papaya and yogurt together and then apply it to a clean face, neck, and décolleté in gentle, upward-sweeping motions. Leave the mask on for three to 10 minutes, depending on your skin's sensitivity. Wash off with tepid water and follow with toner and facial moisturizer.
Why It Works: "Papaya is high in vitamin C and a protein-dissolving enzyme called papain, so this mask is perfect for creating smooth, clear skin," explains Rachel Winard, founder of Soapwalla. "Try halving the amount of papaya if you have sensitive skin or redness."
8
For exfoliation: Coffee mask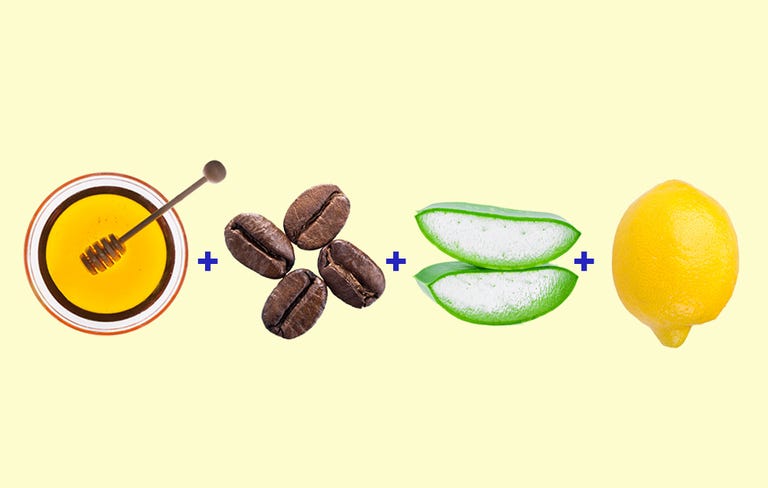 The Recipe:
1 tablespoon of finely ground espresso beans
1 tablespoon of honey
1 1/2 teaspoon of aloe gel
2 1/4 teaspoon of fresh lemon juice (optional)
Blend the coffee grounds and honey together until a paste forms. Add in the aloe gel and lemon juice until everything is well combined (if you sensitive or redness-prone skin, skip the lemon juice). Very gently apply the mask to your face. Leave it on for 10 minutes before washing off.
Why It Works: "The caffeine in the coffee naturally tightens the skin while also gently exfoliating," says Winard. "Additionally, the aloe helps calms inflammation."