What if we told you that setting aside roughly 10 minutes of meal prep per night is all it takes to make sure you have a quick and healthy breakfast that you can pack for your morning rush-hour commute?
Marie Spano, M.S., R.D., C.S.C.S., sports nutritionist for the Atlanta Hawks, says that's about all the time you need to prepare one of these options. But instead of calling them breakfast recipes, which she says tend to trigger anxiety among her kitchen-averse male clients, "I like to call it meal assembly," Spano tells Men's Health. "In just a few minutes, you can put something together. These items have very few ingredients. You can't mess them up."
Plus, Spano vows that you'll save money and time by taking a few minutes to make these breakfasts.
"When you're constantly going into a store or a drive-through in the morning, it takes time," Spano continues. "That time and money add up through the week."
Check out these easy breakfast snack options that pack an early morning punch. You won't be hitting your snooze alarm anymore.
Beat a desired amount of eggs, while adding everything from cheese to bell peppers, onions, mushrooms, jalapeno peppers, mint, or garlic — whatever you like, suggests Spano. Now, spray down a muffin pan with some PAM, add the egg mix and stick in the oven for 12 to 15 minutes at 350F. Remove from the oven, let them cool down, put them in a Ziploc bag and stick your bites in the freezer. Now, they can be packed for your rush hour commute and you can heat them up for 10 seconds in the microwave at the office. Done.
If you hate getting the cutting boards out to chop or don't have greens in the fridge, Spano suggests buying already-diced veggies at Whole Foods or even using simple seasoning, such as garlic, Italian, or even just salt and pepper. Simple and delicious.
You can spend the time mixing up your own pancake batter, or you can simply purchase a ready-made mix. Spano suggests protein-packed pancake mixes by Kodiak Cakes or About Time. Just add water to either mix, stir and make. You'll be able to grab your pancakes as you're running out of the door. Spano likes to eat them with a glass of Kefir on the side. Sounds good to us.
The best part of preparing oats the night before? It doesn't involve any cooking at all, Spano says. You're literally pouring milk into a bowl or cup of steel-cut oats and letting them soak in the fridge overnight. Why steel-cut over processed? Spano says they stay more firm and pack a nuttier taste. Add in some fresh fruit or chopped nuts to round this one out.

4
Bran muffins and a protein drink.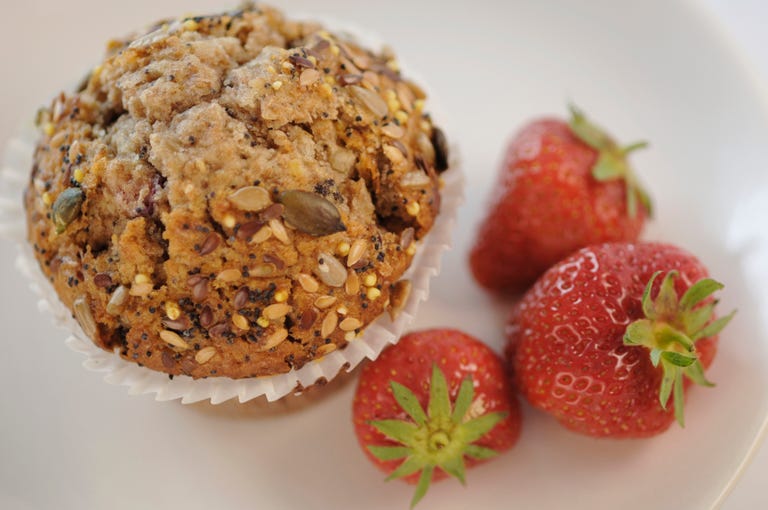 For these bran muffins, you can opt for a Kodiak Cakes or About Time mix as you did with the pancakes. But Spano's trick is to add Kefir to that mix.
"It's a little bit higher in protein and it's thick, so it's a little bit more filling, plus it's a good source of probiotics, which is good for gut health," she says of the benefits of adding the cultured milk. "I think Kefir is excellent." Add a protein shake for an extra healthy kick.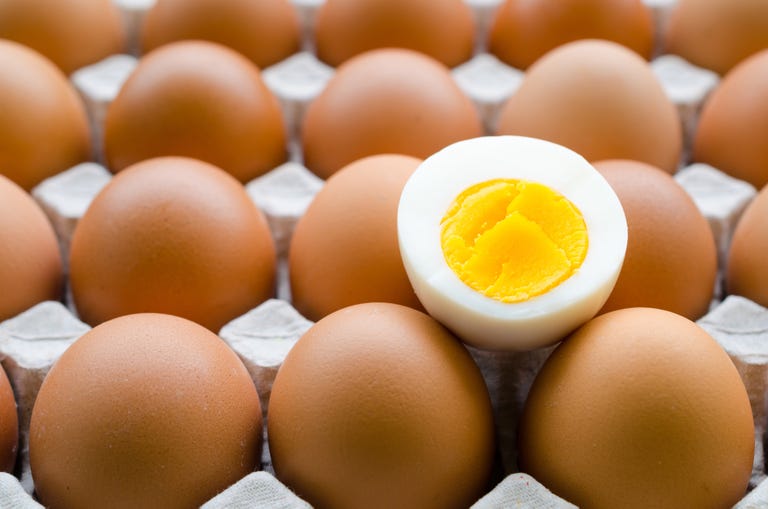 Yes, hard-boiled eggs might be boring, but preparing a dozen on Sunday night and rationing them throughout the week is a time-tested breakfast hack for the ages. With an inch of water over them in a pot, cook the eggs to a rolling boil. Shut off the gas and let them soak for 10 minutes before pouring the hot water out and giving them a quick ice bath. Then stick them in the fridge, peel, and enjoy throughout the week.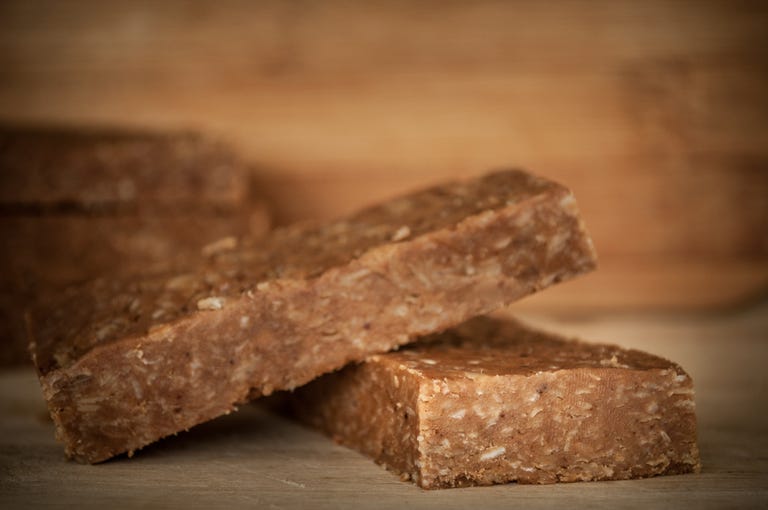 Power mix a ½ cup peanut butter with a ¼ cup honey, ½ cup whey protein and one cup of Old Fashioned oats. Shape into bars and bake at 320F for 30 minutes. Remove from the oven and let cool. These can also be refrigerated if you want. "They have a good amount of protein, which will help satisfy your appetite," Spano promises.
via 6 Healthy Breakfast Ideas – Easy Breakfast Ideas On the Go