Let's be honest: Pumpkin-flavored everything has taken over. Whether we're talking pumpkin lattes, pumpkin butter or pumpkin cakes, this vegetable has exploded onto the food scene — and I love it! Is it possible that this healthy gluten-free pumpkin bread recipe is just as good or even better than the usual classic pumpkin bread recipes?
The only downside is that many pumpkin recipes are full of flour, making them a no-no for people avoiding or unable to tolerate gluten. While you can sometimes find gluten-free versions of the same foods, they're often packed with sugar to make up for the loss in texture. But that's not the case at all when it comes to this easy gluten-free pumpkin bread with almond flour and coconut flour.
With this recipe, I was determined to make a flavorful, gluten-free pumpkin bread with coconut flour and almond flour that was moist and fluffy, which is the best part of any homemade bread. I think it's safe to say this Paleo pumpkin bread is a success.
Key Ingredients
Though pumpkin has just hit its stride in the last few years, it's always been fantastic for your health. Its rich orange color means it's packed with beta-carotene, an antioxidant that converts to vitamin A once consumed. The vitamin help keep the immune system in shape, preserve vision and keep our skin looking great.
Pumpkin is also a top fiber food, making it a more satiating food choice. And it's full of potassium, which is key to keeping our bodies hydrated and our organs working properly.
Now let's talk about this gluten-free pumpkin bread. It's likely you have all the ingredients already on hand.
Instead of white flour, we'll use almond flour and coconut flour. This is such an awesome flour blend because they're both high in fiber, low in sugar and easily digested — no tummy issues with these.
A lot gluten-free recipes call for xanthan gum, but you don't even need it for this yummy pumpkin loaf.
Instead of refined sugar, we'll sweeten this healthy pumpkin bread with maple syrup, which is lower on the glycemic scale than regular granulated sugar, so it won't send you on a sugar crash. With coconut oil and spices rounding out the ingredients list, you can whip this gluten-free pumpkin bread up in just minutes with minimal effort.
This easy pumpkin bread is good for breakfast or to serve alongside a cup of coffee or tea. You might find yourself making loaves quite frequently!
Nutrition Facts
One serving of this amazing pumpkin bread contains about:
201 calories
11.6 grams carbohydrates
5.6 grams protein
15 grams fat
2.6 grams fiber
6.1 grams sugar
209 milligrams sodium
62 milligrams cholesterol
1,608 international units vitamin A (32 percent DV)
6 micrograms vitamin D (29 percent DV)
1 milligram iron (4 percent DV)
23 milligrams calcium (2 percent DV)
How to Make Gluten-Free Pumpkin Bread
Let's talk about how to make this pumpkin loaf. First, you'll want to have some helpful kitchen tools on hand, including a whisk, or fork, and a spatula. Also, make sure your oven is preheated to 325 degrees Fahrenheit.
This recipe is so simple — all you basically have to do is mix the wet ingredients together, add all of the dry ingredients and mix again. Now you can pour the mixture into a greased pan, and in 60 minutes tops, your delicious gluten-free pumpkin bread will be ready for you to eat!
You can also add some gluten-free dark chocolate chips or nuts to this recipe if that sounds good to you.
Let's get started. Preheat the oven to 325 F, then add all the wet ingredients into a bowl.
That includes the pumpkin puree, maple syrup, coconut oil and eggs. Mix together with a whisk.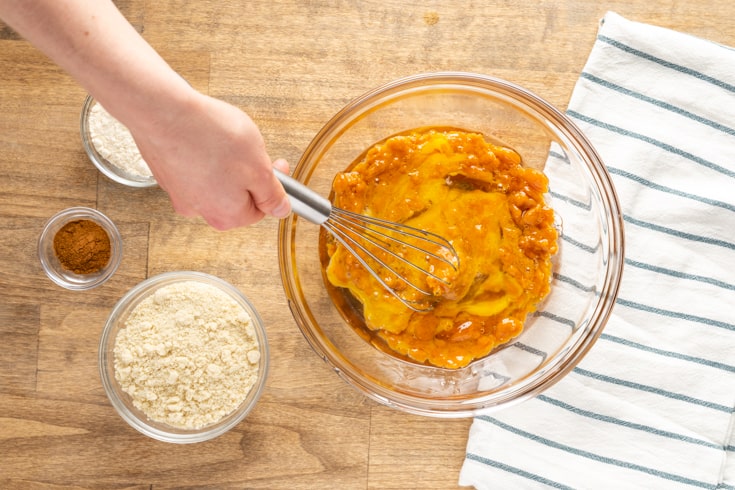 Add the dry ingredients to the wet ingredients. Stir until well-combined.
Once that's done, pour the gluten-free pumpkin bread mixture into a greased loaf pan or glass dish. (I like greasing with coconut oil.)
You'll probably have to smooth down the top of your bread with a spatula before putting in the oven.
Then bake the bread for 45–60 minutes.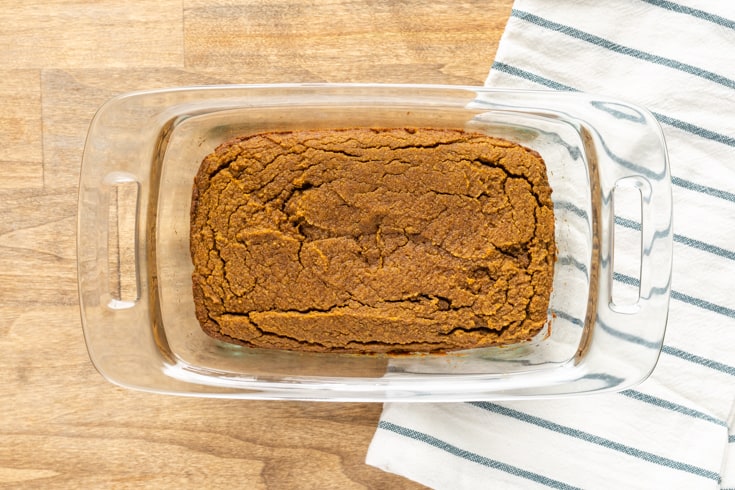 Let the bread cool for 10 minutes or so before slicing and serving warm.
I like to serve my bread with grass-fed butter, but it's delicious all on its own!
Gluten-Free Pumpkin Bread Recipe
---
Author: Dr. Josh Axe
Total Time: 1 hour 25 minutes
Yield: 8-10 1x
Diet: Gluten Free
This gluten-free pumpkin bread recipe is soft, sweet and satisfying. The fluffy texture melts in your mouth with a rich pumpkin flavor.
---
Ingredients
Scale
1 cup almond flour
¼ cup coconut flour
½ teaspoon sea salt
½ teaspoon baking soda
1 teaspoon cinnamon
½ teaspoon pumpkin pie spice
¾ cup pumpkin
¼ cup maple syrup
¼ cup melted coconut oil
3–4 eggs
---
Instructions
Preheat oven to 325 F.
Combine all wet ingredients in a bowl. Mix.
Add the dry ingredients to the wet ingredients. Stir until well-combined.
Pour the mixture into a greased loaf pan. Bake for 60 minutes. (Check at 50 minutes, as some ovens vary in temperature.)
What do you think about this article? Please share the article and let us know your comment.
Source: draxe